Cast and Credits
It takes a LOT to bring a cartoon show into being. There is a long line of creators, writers, artists, actors, directors, etc. that go into making a vision become real. Listed below are MD:TAS's crew and voice cast, along with their pictures, past credits, and works they can be seen in today.
The Crew
Joe Barruso- MD:TAS's supurvising producer and director has garnered two Emmy nominations and an Emmy win for his production work on Where in the World is Carmen Sandiego? Barruso oversaw most of the show's development, including story development, art and animation layout, and post-production.
Andreas Hommelshiem- Directed the music performances and recordings for the show score. Hommelshiem is credited for music direction in many of Disney's major feature animation films, including Beauty and the Beast, The Lion King, Oliver and Company, and Hercules.
Carl Swander Johnson- Composer of the excellent orchestral score. He has composed many scores for Disney films, including The Hunchback of Notre Dame II. He has also done music for shows like Toonsylvania, and Pinky and the Brain.
John Scherfer- Art director for MD:TAS, Scherfer was responsible for overseeing animation processes all the way from conceptual designs, to storyboards, to the animation and background cels.
David Wise- As the head writer and story editor for the show, Wise played a crucial role in shaping the characters of the Mighty Ducks we know and love. Winning animation awards since he was only 8 years old, he won an Emmy for an episode of the animated Star Trek that he co-wrote in 1974. Wise's writing work also includes Batman: The Animated Series, Cadillacs and Dinosaurs, the original Transformers, and the Teenage Mutant Ninja Turtles. Wise has also done live-action writing for Buck Rogers and The New Adventures of Wonder Woman and Quincy. Wise has also taken time to chat with Ducks fans in the past, and we thank him for his time and hard work on the show!
Voice Cast
Charlie Adler- The voice of Dr. Droid, Adler is best known amongst Disney fans for his work as Mekanikales and several market vendors in the Aladdin series. Currently, he voices several major characters on the Cow and Chicken show. Contact address: c/o Arlene Thornton & Associates, Inc. 12001 Ventura Place, Suite 201 Studio City, CA 91604 USA.
James Belushi- The brother of the late SNL and Blues Brothers great John Belushi, James is the voice of Phil Palmfeather in the show. He also voices such popular characters as Nestor in Disney's Hercules show, and Rudy/The Parasite from the animated Superman. He can currently be seen in his own sitcom on ABC, According to Jim. He has also done live action work as a patient on an episode of ER. Contact address: c/o International Creative Management 8942 Wilshire Blvd. #155 Beverly Hills, CA 90211 USA.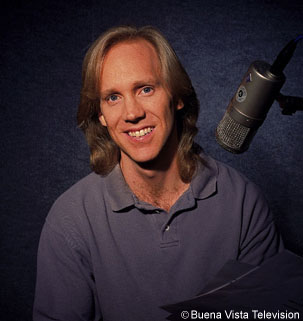 Jeff Bennet- One of the most talented voice actors in the business today, Bennet provided the voices for Duke L'Orange, and Thrash. His ability to warp his voice has allowed him to voice several characters from an individual show (he has at least 19 characters in Animaniacs!) and yet have each retain an identifiable quality. Some of his most memorable roles have been as Brooklyn in Gargoyles, and Amin De'Mola in Aladdin. Currently, he does the voice of Drix in Ozzy and Drix, has won two Annie awards for his work as Johnny Bravo in Johnny Bravo, and voices several assorted characters in Samurai Jack. Contact address: c/o Sutton, Barth, & Vennari 145 S. Fairfax Ave. #310 Los Angeles, CA 90036 USA.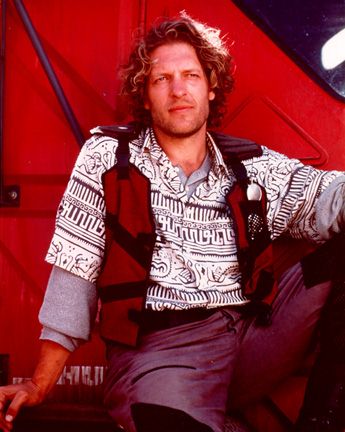 Clancy Brown- The infamous voice of Seige, Brown has had assorted roles in cartoons over the ages, but his largest are of Rupert Thorne in Batman: The Animated Series, and Lex Luthor in the animated Superman and Justice League. Brown can also currently be heard as Mr. Krabs on Nickelodeon's Spongebob Squarepants, as well as Captain Black in The Jackie Chan Adventures. Contact address: 10100 Santa Monica Blvd. #2500 Los Angeles, CA 90067 USA. Visit Clancy's official website at www.clancy-brown.com.
S. Scott Bullock- Giving voice to a young Grin in the episode "Power Play", Bullock has also provided the voice for Lamont in Gargoyles, Doug Slackwell in Quack Pack, and Chubby and Gentoo in the animated movie, The Pebble and the Penguin. Contact address: c/o Sutton, Barth, & Venari 145 S. Fairfax Ave. #310 Los Angeles, CA 90036 USA.
Townsend Coleman- Voicing Canard, Coleman's impressive credits include Michelangelo and Splinter from Teenage Mutant Ninja Turtles, Architect, Gobo, and Wrench from the animated Fraggle Rock, and several voices in The Tick. His movie work includes Father Joseph from Buster and Chauncey's Silent Night.
Tim Curry- Providing the powerful voice for Dragaunus, Curry is one of four of the voice acting staff that work both as voice actors and regular actors. He plays starring roles in movies such as The Three Musketeers and Muppet Treasure Island, while in cartoons he has done the voices of Taurus Bulba in Darkwing Duck, and Pretorius in The Mask. Currently, he voices Nigel in Nickelodeon's The Wild Thornberry's. Contact address: c/o United Talent Agency 9560 Wilshire Blvd. #516 Beverly Hills, CA 90212 USA.
Reed Diamond- Voicing Falcone, Diamond's other credits include Katz from Courage, the Cowardly Dog, and a book narration role for Homicide: Life on the Street.
Roy Firestone- Not a voice actor at all, but a respected sportscaster and interviewer for ESPN. Firestone provides the energized voice of the announcer in the Pond. Firestone has also voiced himself in an epsiode of The Simpsons, "Bart Star".
Dennis Franz- Famous for his acting work on NYPD Blue, Franz is relatively new to the voice acting studio, but knows the police lingo! He provides the voice of Captain Klegghorn.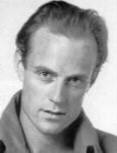 Matt Frewer- The voice to Dr. Pretorius, Frewer can also be heard voicing for Panic from Hercules (movie and animated series) Chaos from Aladdin, Jackal from Gargoyles, Pink Panther from The Pink Panther, and Sid the Squid from Batman: The Animated Series to name just a few of his roles. He has also done a lot of live-action acting, on TV in Max Headroom, and in movies like Supergirl, and National Lampoon's Senior Trip. He has also guest-starred on TV series like The Outer Limits, Miami Vice, and Star Trek: The Next Generation.
Brad Garrett- Another actor/voice actor, Garrett actually started his career as a standup comedian, and still specializes in the area. Providing the voice of Grin for the show, Garrett has also done Noah in Project Ge.eKe.R, Fatso from the movie Casper, and Dim from A Bug's Life. Garrett also stars in the CBS Emmy-winning sitcom Everybody Loves Raymond.
Jennifer Hale- Voicing Mallory, Hale has also had large roles as Ivy from Where In the World is Carmen Sandiego? and Felicia Hardy and Black Cat in Spiderman. She can currently be heard as Lady Vermin and Mary Jane in Spider Man Unlimited, and does various voices in Cartoon Network's newest hit show, Samurai Jack. Contact address:c/o Sutton, Barth, & Vennari145 S. Fairfax Ave. #310 Los Angeles, CA 90036 USA.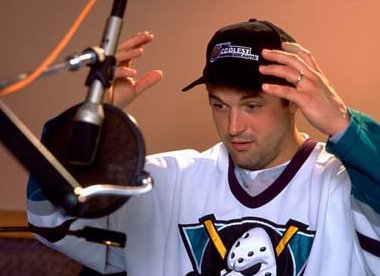 Guy Hebert- The first ever player in NHL history to be named a Mighty Duck, Guy voices himself as a character in the episode "Take Me to Your Leader". Although Guy's never before stood behind the mic in a voice recording studio, he has recorded all of the Ducks' goaltending records, and has been the member of the original team that remained in Anaheim the longest. Although now retired from the NHL, he is the president of the Mighty Ducks alumni association, and continues to reside in Anaheim with his family.
Rob Paulsen- Another heavyweight in the voice acting industry, Paulsen provided the voice of the alter-Anaheim prince, Borg. Paulsen's credits include Yakko and Dr. Scratchnsniff from Animaniacs, Mighty Max in Mighty Max, Raphael from Teenage Mutant Ninja Turtles, and Pinky from Pinky and The Brain. His movie work includes P.J. from A Goofy Movie, and An Extremely Goofy Movie.
David Hyde-Pierce- Voicing the hunter Baron Von Licktenstamp, Hyde-Pierce is an accomplished actor and stars in the NBC sitcom Fraiser. In cartoons, he has voiced Slim in A Bug's Life, Daedelus from the TV Hercules, and Cecil Terwilliger in The Simpsons. Most recently, David has played a starring role as Drix in the animated portions of the film Osmosis Jones.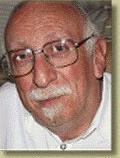 Tony Jay- The eerie voice of Wraith, Jay has won an Annie award for voicing the evil Judge Frollo in Disney's The Hunchback of Notre Dame. Jay's other movie work includes the narrator in Austen Powers: The Spy Who Shagged Me. On television, Jay has voiced Virgil in Mighty Max, Shere Khan in Talespin, and Dr. Lipshitz in Rugrats, to name a few roles. Contact address: c/o ICM 8942 Wilshire Blvd. Beverly Hills, CA 90211 USA. Visit Tony's official website at www.poetsonbroadway.com.
Steve Mackall- Known best for anchoring the Disney AfterNews, after the Disney Afternoon program blocks, Mackall has also done some TV show and cereal commercials. We know him better as the voice of Nosedive. Mackall has also done the voices of Marsupilami from Marsupilami, and Henry from the Shnookums and Meat Funny Cartooon Show.
Tress MacNeille- Voicing the twin robot Trinas, MacNeille is another accomplished voice actor with a long list of credits. Her well-known characters include Babs Bunny from Tiny Toon Adventures, Chip from Chip N' Dale's Rescue Rangers, Dot from Animaniacs, and Toast and World's Oldest Woman from Histeria. She can currently be heard on Futurama, voicing the Slurm Queen.
Kath Soucie- The voice of Lucretia DeCoy can currently be heard as the voice of Bubbles in The Powerpuff Girls. Her other roles include Daisy Duck in Quack Pack, Dottie and Edie Pickles in Rugrats, Janine Melman in The Real Ghostbusters, and Morgana McCawber in Darkwing Duck. Her movie work includes her voicing Lola Bunny from Space Jam.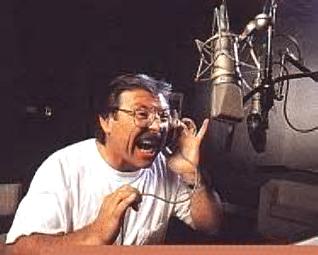 Frank Welker- The man that voices The Chameleon and those pesky little energy creatures also has countless credits in the cartoon and movie industry for other roles. He specializes in providing animal-like sound effects that are suprisingly accurate. Some of his most famous roles include Abu from both the Aladdin movies and TV series, Chicken Boo, Ralph and Runt from Animaniacs, Zipper from Chip and Dale's Rescue Rangers, Dr. Claw from Inspector Gadget, a slew of characters (including Megatron) from the original Transformers, and Bronx from Gargoyles, among MANY others. His movie work includes special voice effects for Independence Day, Godzilla, A Goofy Movie, Batman Beyond: Return of the Joker and more. Click here to read an interview with Mr. Welker, from Cold Hard Slag.
April Winchell- The voice of both Tanya and Mook, Winchell has won an Annie award for her work as Cruella DeVil in 101 Dalmations: The Series. Her other work includes Lydia in Pepper Ann, Miss Finster in Recess, Ro-Becca in Sonic the Hedgehog, and Dyl Piquel in Bonkers. She also played Mrs. and Baby Herman in Roger Rabbit cartoons, and the Who Framed Roger Rabbit movie. Currently, April hosts a weekly radio show every Saturday from 7-10 on KFI 640AM. To visit the show's official website, check out www.aprilwinchell.com, and head over to the multimedia section for some cute sound clips by other Ducks voice actors like Brad Garrett, Ian Zierring, and Tim Curry!
Ian Zierring- The voice of Wildwing is also one of the only members of the Beverly Hills, 90210 cast that remained on the show for it's entire airtime run. Zierring has also dabbled in voice acting, doing roles such as Nick from Godzilla, and in Biker Mice from Mars. Also, Ian Zierring's wife is a model for the game show, The Price Is Right.
Efram Zimbalist, Jr.- Providing the voice for Dr. Huggerman, Zimbalist is most famous for his role as Alfred in Batman: The Animated Series, Batman and Robin, and The Batman/Superman Adventures. He has continued the role of Alfred in the Batman movies Mask of the Phantasm and Subzero. Zimbalist is also the voice of Dr. Octopus in Spiderman.
More Information
Complete role listings for each of these voice actors can be found on pages dedicated to MD:TAS at Voicechasers.org and Voices.fuzzy.com. More information on the crew, especially for the First Face-Off movie can be found at TV Guide's Movie Database.