Tour the Pond
So, have you ever wondered what it's like to take a stroll through the Pond? Whether it's touring the Ducks' secret headquarters, or wanting to go see a game at the real Arrowhead Pond of Anaheim, look no further! Here, you'll find inside info on the arena the Ducks call home. (Click on the thumbnails for larger pictures)
A comprehensive look at all four levels of the Pond, this blueprint shows everything from the lowest quantum fusion generator room, to the surface level arena.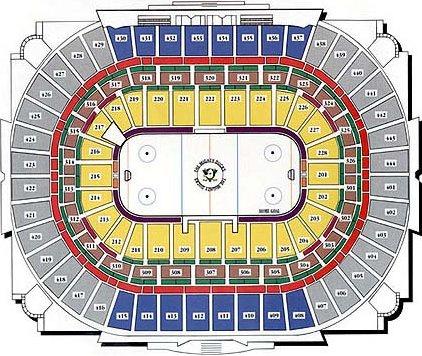 A seating chart for the actual Arrowhead Pond. As with most hockey arenas, the seats slope downward to the ice, and there is a balcony tier.

A shot of the actual Arrowhead Pond, at night. This beautiful building is located across the freeway inland from DisneyLand. On the left you can see one of the Pond's two glass archways, which are the building's trademark. On the inside, the arena concourse is a perfect place for food and merchandise vendors, and also contains one of the team's two official stores. When not hosting the Ducks, the Pond is the perfect venue for concerts and trade shows.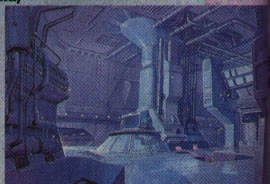 A wide shot of the Ready Room, on the Pond's second sublevel. In the center is the massive supercomputer, Drake 1.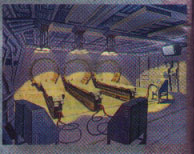 The infirmary, also on sublevel 2. Three medical beds are ringed at the head by the Medicom, a non-intrusive analyzing device that can help determine and heal mild injuries without surgery.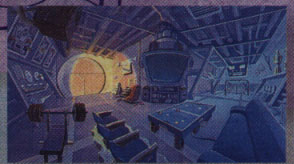 Nosedive's bunk is decked out with everything a teenager could want, including a TV, free weights, an air-hockey table, and a place to stash his comics!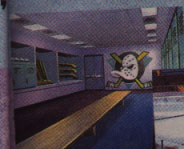 Although this may look like a normal rink-side locker room, the logo along the wall conceals a secret elevator door, which will lead the team right down into the Ready Room.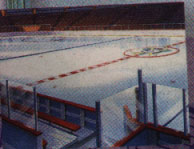 A view of the empty arena from a rink-side seat. One of the team benches is in the lower left corner. The red and white line indicates center ice.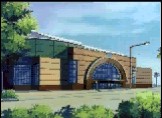 A shot of the animated Pond. Just like the real one, it is surrounded by palm trees, and bordered by an aquaduct on the east and parking lots on the west.
The jumbo-tron, which hangs suspended from the ceiling over center ice. Fans and players can look up here for instant replays, statistics, and arena broadcasts throughout games.
All of these pictures are from assorted Disney sources, but they are all property of and copyright by Disney.